Evalex to share insights and innovations at SIOPSA 2018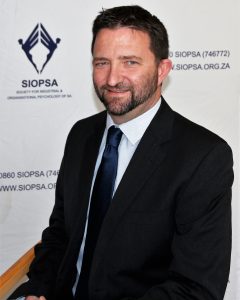 We look forward to attending, speaking and exhibiting at the 20th Annual SIOPSA Conference to be held at the CSIR International Convention Centre in Pretoria. The theme of this year's conference is "The Art of Collaboration". Evalex has secured a Gold sponsorship at the event, which includes an exhibition stand to showcase our locally developed and integrated assessment solutions.
David Bischof, our Director Business Development (pictured right), is the chairperson for People Assessments in Industry (PAI) an interest group of SIOPSA. He will be providing an update on current events affecting the South African testing and assessment landscape at a session to be held on Tuesday, 24 July at 4pm in the Crystal venue. The session will also provide an opportunity for participants to ask questions regarding the ethical use of tests and assessments in the South African context and a discussion regarding the future of tests and assessments based on current trends in gamification and the 'next generation' of assessments.
Furthermore, David is very excited to be part of a panel discussion which will take place on the 24 July at 2.30pm and involve SIOPSA, PSySSA, the ATP and the Health Professions Council of South Africa which is entitled "Mapping best practice models: Towards South African assessment evaluation criteria". Together with the floor, the panel will seek to explore best practice models and procedures that could assist with improved assessment practices in the South African context.
Looking forward to seeing all our client and colleagues at this exciting event!