Competence Library
The Evalex Talent Management System has at its core one of the most comprehensive competence libraries available in the market. With 23 competency domains, 115 sub-domains, 750 competencies and 6 100 competency facets at your disposal, the task of accurate job profiling just got a whole lot easier.
Job profiling is one of the cornerstones of any human resource or human capital process. The Evalex philosophy dictates that profiling needs to happen at three levels:
Profiling the position in terms of position level (Evalex has a built-in levels of work "calculator" to achieve this)
Profiling the position in terms of the outputs, objectives or goals to be achieved (Evalex has a comprehensive, fully-fledged performance management module to achieve this)
Profiling the position in terms of the competencies required to achieve the objectives or purpose of the role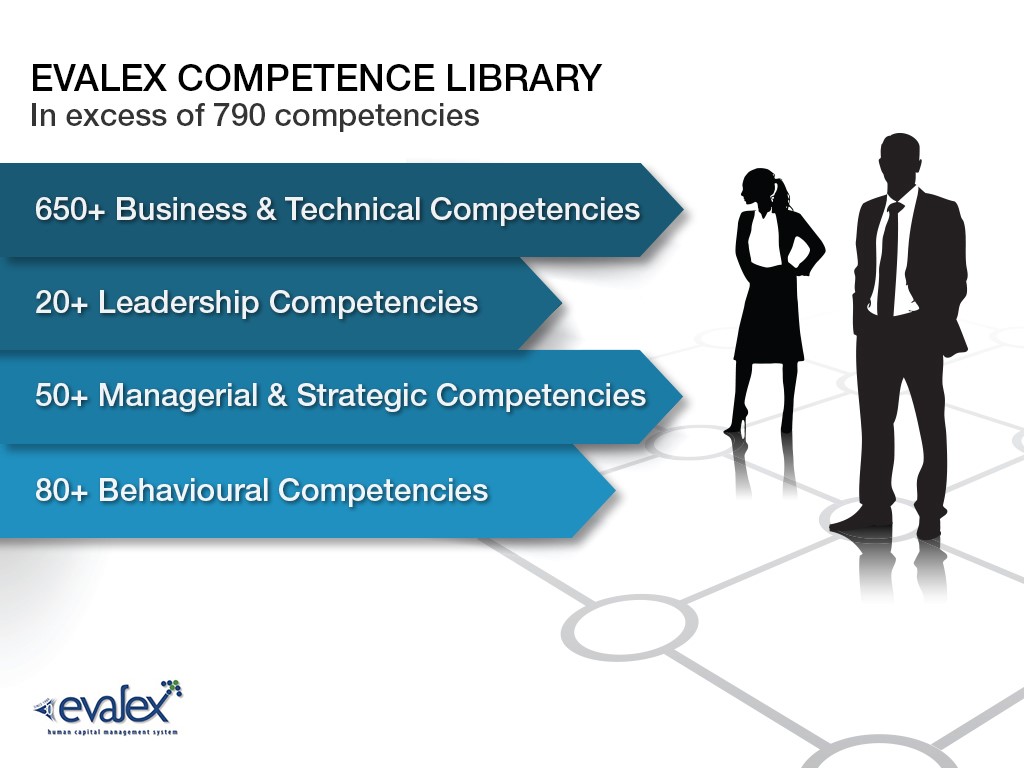 Unlike other systems, Evalex profiles competencies across the following domains:
Cognitive
Behavioural
Leadership/managerial
Strategic
Business
Technical
These competencies can be assessed using just three assessment tools, namely:
Assessment Centre (for leadership and managerial competencies)
Psychometrics (for behavioural and cognitive competencies)
The Evalex Competence Inventory (for business and technical competencies)
Unpacking competencies
Unlike most competency systems, Evalex differentiates between proficiency levels and competency levels. It is therefore two-dimensional, whereas most other systems are one-dimensional. At Evalex we first determine the proficiency level at which the person can function at (levels of work) then the competency level. Given four proficiency levels and eight competency levels, a 32-point scale is achieved that allows for very fine differentiation among staff.
Competencies themselves are divided into three classes, namely transactional, operational and strategic. Evalex has the capability to define and profile a position in terms of both technical and behavioural competencies. This allows for full integration of psychometric assessments with technical competence assessments, covering all drivers of performance.
Each competency in the Evalex library has a name, descriptor and set of proficiency levels aligned with the Elliot Jacques Levels of Work theory. The only exception here is the behavioural component, which is assessed through psychometrics. The behaviours expected for the competency at each level of work have, however, been described in detail with an even progression of complexity.