Evalex Psychometrics
Our psychometrics basket comprises a carefully chosen combination of psychometric instruments to provide high predictive validity solutions.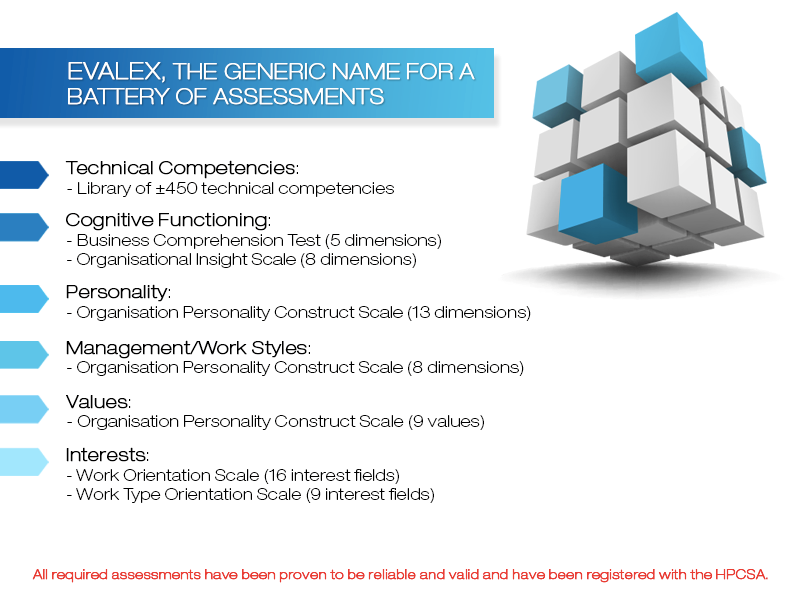 Through extensive research we have isolated the key drivers of performance at each level of work and developed psychometric instruments to measure each driver. All psychometric instruments have been developed by OMT and Evalex and are backed up by research to substantiate reliability and validity.
Assessment instruments are integrated into one assessment platform, which includes the IP200 offered in collaboration with Integrity International.
Assessment solutions
We offer a carefully chosen combination of psychometric instruments to provide high predictive validity solutions. Our solutions include a combination of assessment centre instruments, psychometric instruments and technical assessments.
Based on careful research we have developed solutions that we have found to predict performance at the different levels of work. Each level of work requires a different style and personality, a different level of EQ and a different level of cognitive ability and competence. In studying these levels we designed a battery of assessments that predict performance at each level.
Levels and Types of Assessment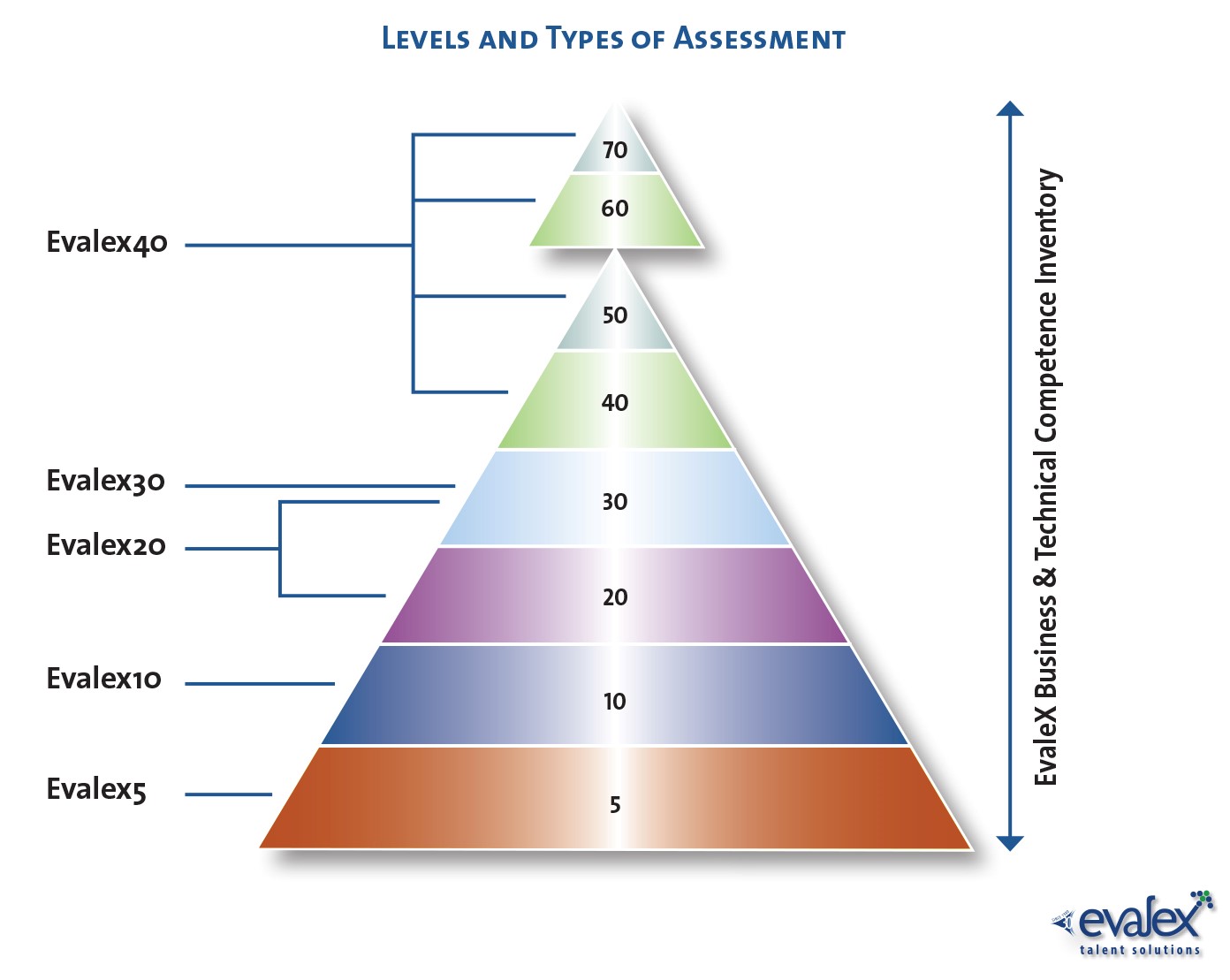 For each level of work, a combination of instruments has been included, based on research indicating the drivers of performance at that level.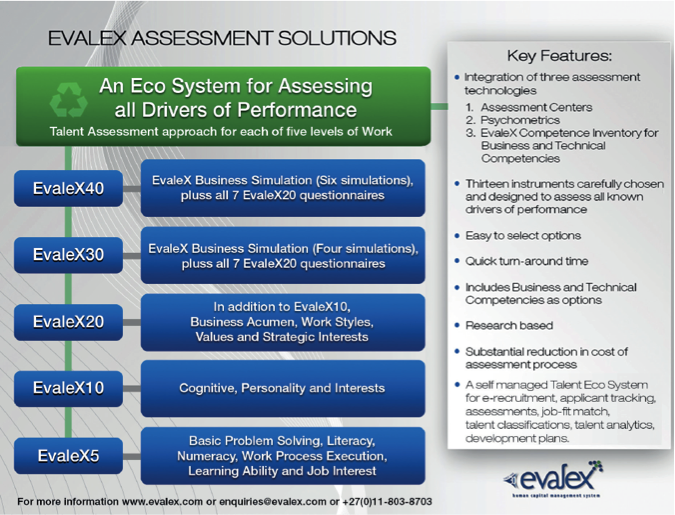 The power of using assessment tools from one system is the aspect of progression. It is important to note that the assessment tool that you use must be able to "hurdle" you into the next assessment battery as you pass through the employee life cycle.
Let us assume that we have employed an operator. She has completed the Evalex10 and she is performing well. We would like to promote her. Rather than re-assessing her, we merely add two additional questionnaires and she will then have completed the Evalex20. Two years later, if she shows potential for promotion, rather than re-assessing we add the four case studies of the Evalex30. The same applies to moving to the Evalex40.
All of this is done effortlessly and almost automatically in the system. What this means is that over the long term you have a reduction in cost of assessments.
This also has implications for the talent management process. If you use the standard battery of assessments, catering for all levels in the organisation, and all people in the business have completed the same set of assessments, you can compare individuals' data against multiple benchmarks.
When to use which solution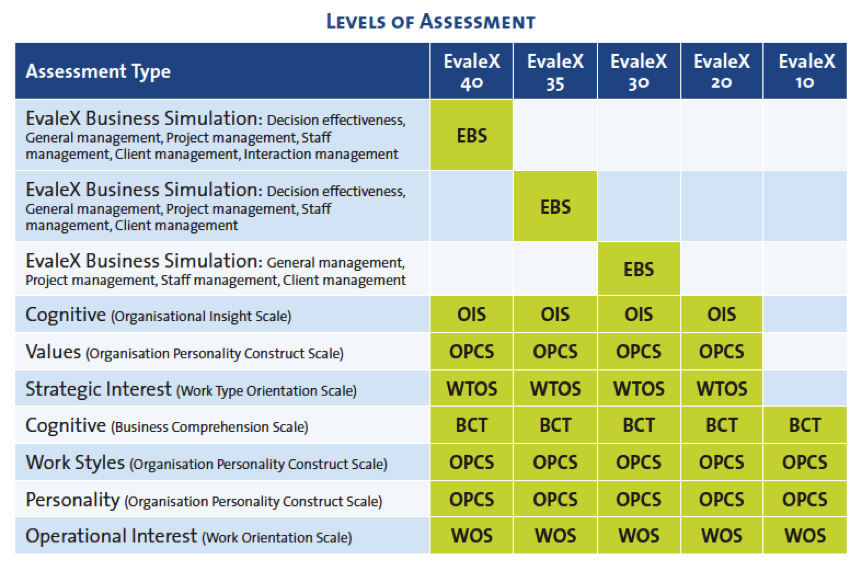 The Evalex solutions have been designed based on the type of assessment required at each level of work. The competencies driving performance at each level were established through internal research. The competencies to be assessed, in turn, inform what assessment instrument is required.
Evalex5: Work level 0,5: The Odyssey Talent System has been designed exclusively as a one-stop-shop for the assessment of competencies typically required in entry level roles.Odyssey is a suite of six questionnaires assessing the following competencies:
English literacy
Numerical literacy
Work process assimilation and execution
Elementary problem solving
Clerical efficiency
Work speed and productivity
Interests
Learning Potential
Evalex10: Work level 1,0 to 1,5: At this level we need to find out more about:
Cognitive ability at the level of work complexity: Mainly for learning and problem solving
The required personality traits for the job
Interest in the required work or tasks to be performed, giving an indication of motivation

Evalex15: Work levels 1,5 to 2,0: As these roles start moving into the team leader or technical domains, we need to assess:
Cognitive ability at the level of work complexity, mainly for learning and problem solving
The required personality traits for the job
Interest in the required work or tasks to be performed, which gives an indication of motivation
Preferred work styles

Evalex20: Work levels 2,0 to 2,5: As these roles start moving into the junior management and professional domains, we need data on:
Cognitive ability at the level of work complexity
The required personality traits for the job
Interest in the required work or tasks to be performed, which gives an indication of motivation
Preferred work styles
Business acumen
Values

Evalex30 to 40: Work levels 3,0 to 5,0: As these roles function at middle to senior leadership level, we need to assess:
Cognitive ability at the level of work complexity
Management style issues: The required personality traits, interest in the required work or tasks to be performed, preferred work styles, business acumen and values
Leadership competencies
Thought leadership
Emotional maturity