EvaleX10
The EvaleX10 is a psychometric test battery consisting of 3 instruments (Cognition, Personality, and Interests), assessing the key behavioural competencies that have proven to be the main drivers of effective performance predictors at work level 1 (as example Clerical roles, learner-ships, entry level sales roles,) in one seamless on-line assessment battery where results are available immediately and incorporated into the EvaleX Talent Eco System. It provides a high level of prediction with extensive research backing providing high levels of predictive validity and reliability.
The nature of Evalex10
Evalex10 deploys three of the seven Evalex Psychometric  tools, carefully chosen to provide an extremely cost effective solution whilst still incorporating the assessment tools that would measure the key drivers of performance at work level 1 positions.
Please navigate to Evalex Psychometrics to gain a fuller context on this aspect.
When to use Evalex10
When your organisation needs to assess talent for positions at work level 1,0 and 1,5 Evalex10 is an elegant solution.
The requirement at work level 1 and 1,5 is usually:
Cognitive ability at the level of work complexity: Mainly for learning and problem solving.
The required personality traits for the job.
Interest in the required work or tasks to be performed, giving an indication of motivation.
Typical scenarios and positions include:
Annual learner-ship intakes.
Clerical roles in finance, HR, operations, sales.
Identification of talent to promote to team leader and supervisory level.
As a first hurdling process (assessment) to ascertain suitability to progress a candidate to a more extensive recruitment and assessment level.
Research
Navigating to the research section of our web-site will provide a more extensive review of the statistical properties of all the Evalex assessment products.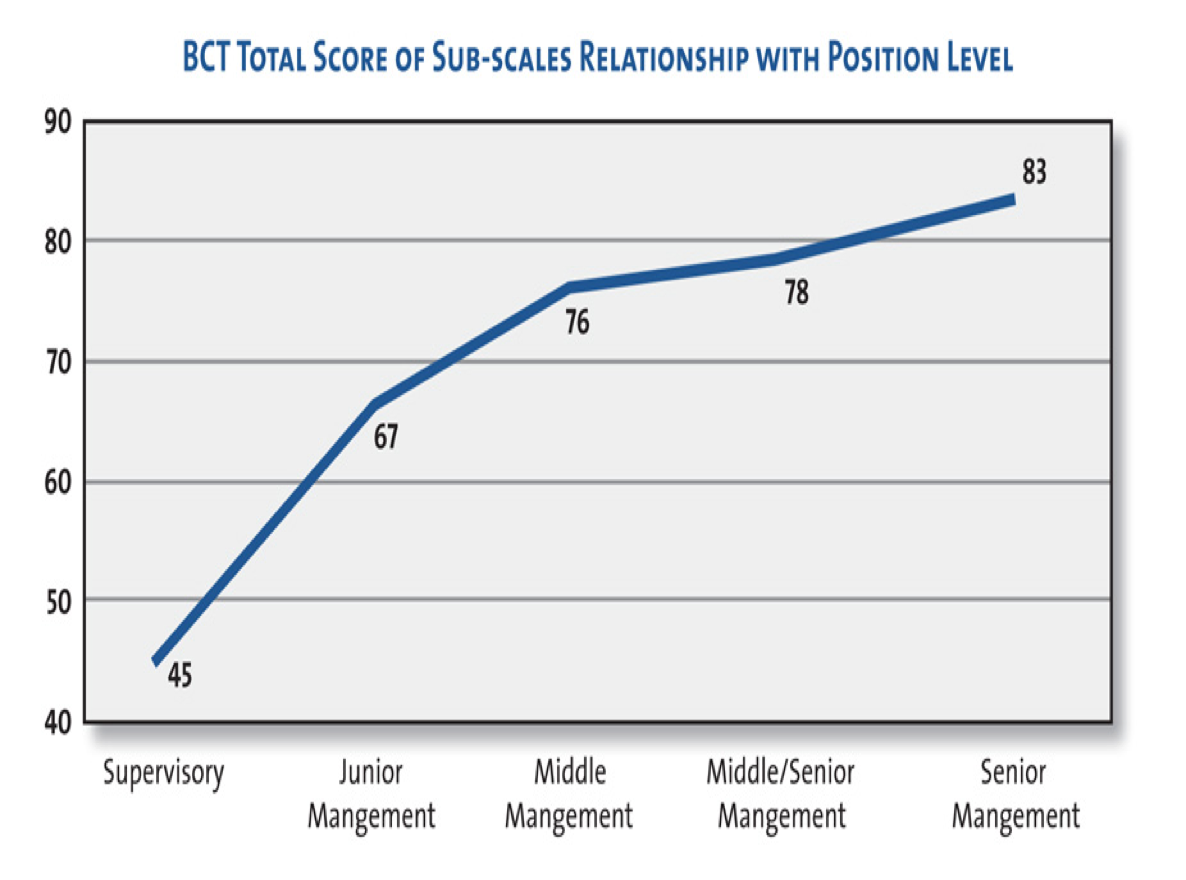 The Business Comprehension test (BCT) has a validity range of 0,30-0,40 in predicting the level of work at which a candidate can function at. The graphic shows the slope indicating what level of BCT performance is associated with each level of management.
An interesting aspect about the research into the validity of the BCT is that the slope plateaus from middle management to middle/senior, then escalates agin towards the most senior roles.
This quite an important finding. Researching the Evalex Business Simulation (EBS)parallel to the BCT indicates an opposite trajectory. So what does this mean?
Cognitive ability seems to be one of the main drivers to propel an individual from entry level roles up to middle management, but then runs out of steam as leadership competencies assessed through the EBS takes over as the main driver to the upper echelons of management and leadership.
However, to move from middle/senior roles to executive level roles reporting to the CEO, cognitive ability again, alongside the EBS leadership competencies comes into it's own as a driver of suc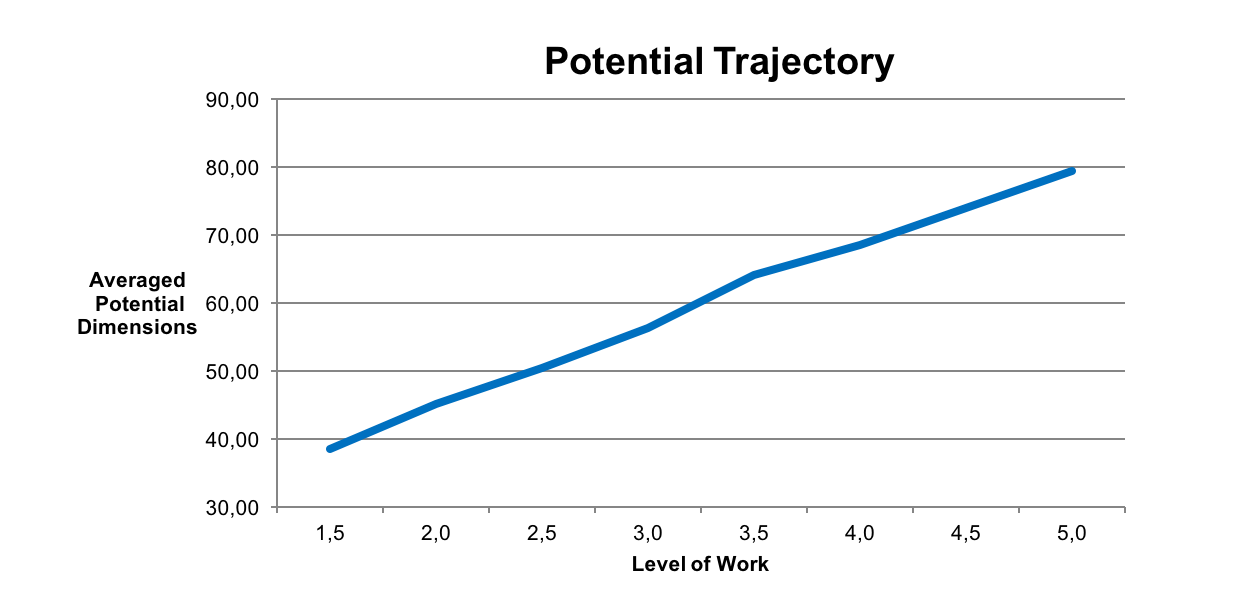 cess.
Similar research results have been obtained for the Organisation Personality Construct Scale (OPCS). Using the dimensions that all showed a statistically significant correlation with position level (Level of Work) the following correlation slope was obtained.
Employees that normally function at work level 1,5-2,0 (Team-leader/supervisory) score approximately 40, with level 3,0-3,5 (middle management) scoring approximately 60 and those at CEO level scoring 80. This indicate the power of the OPCS to predict potential and talent for functioning at increasingly more complex roles.