Finding opportunity during Covid-19: Engage with students and young talent!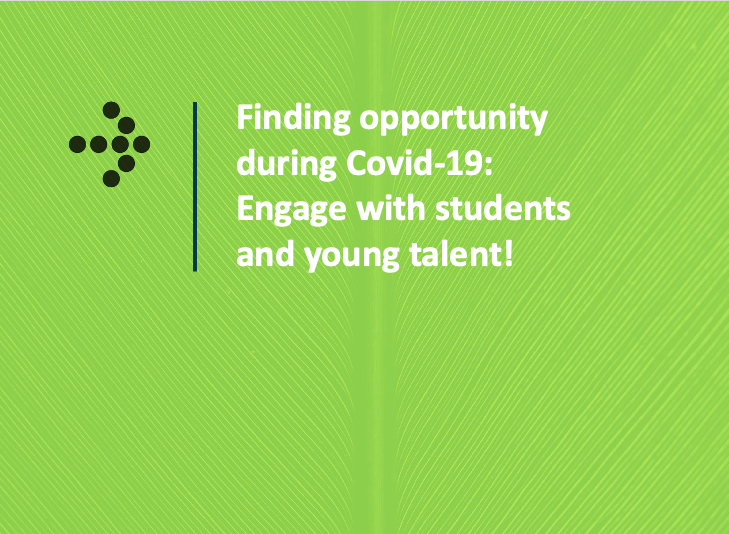 By Kevin Distiller, MD of Odyssey Talent Management
Many blogs currently being posted focus on how individuals, teams and organisations can use the downturn in normal business activity to remain positive, to plan for the future, and to find unexpected opportunity to add value to their stakeholders.
From an educational point of view, universities around the world, including South Africa, have had to adapt to lockdown conditions and are experimenting with the use of online classes to allow students to continue with their studies.
Universities plan online classes during lockdown
This means more students will be online for longer periods than usual over this time.
In fact, forward-looking organisations are already engaging with, sifting, assessing and pre-selecting potential candidates for their future talent programmes (such as graduate recruitment and learnership programmes), even when these programmes are only set to take place later in the year.
If your organisation plays in this space, why not use this time to target your ideal candidates, rather than taking the risk that the best and most talented candidates are already committed to other programmes by the time you are ready to begin engaging with them?
Together with our parent company, Evalex, we at Odyssey Talent Management can facilitate this process by providing a completely online and automated graduate and learnership process that can easily be implemented during the lockdown period. This is because we can utilise the high volume, gamified assessment capability of our Odyssey Talent Management system, and combine this with the proven scientific rigour and advanced talent reporting of our Evalex psychometrics and business simulations.
Our approach is depicted in the below "funnel", which demonstrates how we would use our sophisticated IT platforms to hurdle candidates through a well-researched, efficient and highly effective methodology.
This approach is flexible and can be customised to your company's unique needs and budget. The methodology includes:
Customisable knock-out capability
Choice of nine gamified and smartphone-enabled assessments
Choice of five cognitive/ability assessments AND/OR two situational judgment tests
Choice of four behavioural assessments (personality, styles, values and interests)
Choice of nine simulations, which combine artificial intelligence (AI) enabled exercises with online day-in-the-life-of-a-leader inboxes and scenarios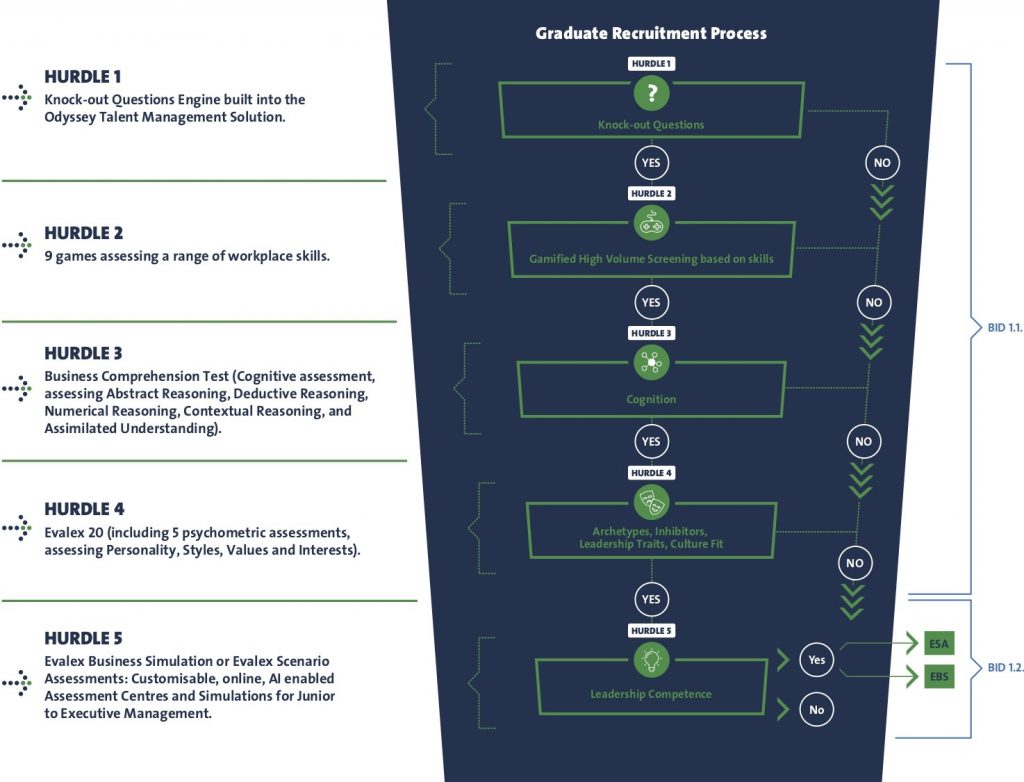 The advantages of our approach:
The assessments become more sophisticated the further a candidate progresses through the process.
Our solution uses robust, reliable, valid and proven assessments, and incorporates extensive South African and African norms.
Our methodology is built on several coherent frameworks to assess job-relevant skills, based on detailed and scientific job analyses of what is required to succeed.
Our systems have proven scalability to handle the expected applicant volumes in a short timeframe and in low bandwidth environments.
Using sophisticated IT infrastructure, AI-enabled assessments and online capabilities, our solution vastly reduces the time it takes to assess, sift and sort through the graduate applicants. It also reduces the need for human intervention, and the need for candidates and assessors to be in the same physcial location.
Because all assessments are managed from one platform, it is easy for us to perform extensive data and trend analytics to assist with shortlisting high potential graduates and to help organisations identify talent for the future.
Data analytics also include our ability to match graduates to different position archetypes (i.e. a pattern of behaviour that can serve as a prototype to understand the position and the nature of a position based on our competency framework), and to identify potential graduate performance inhibitors. This means that you will have a clear understanding of the individual behaviours and characteristics that could impact the individual's ability to effectively resolve problems, manage relationships, manage themselves and execute and deliver on their tasks and objectives. In essence it will lessen any behavioural surprises that could negatively impact the individual's potential and performance.
For more information, please contact us on info@odysseytalent.co.za or 011 803 8703.