Forward-looking organisations are already planning future talent programmes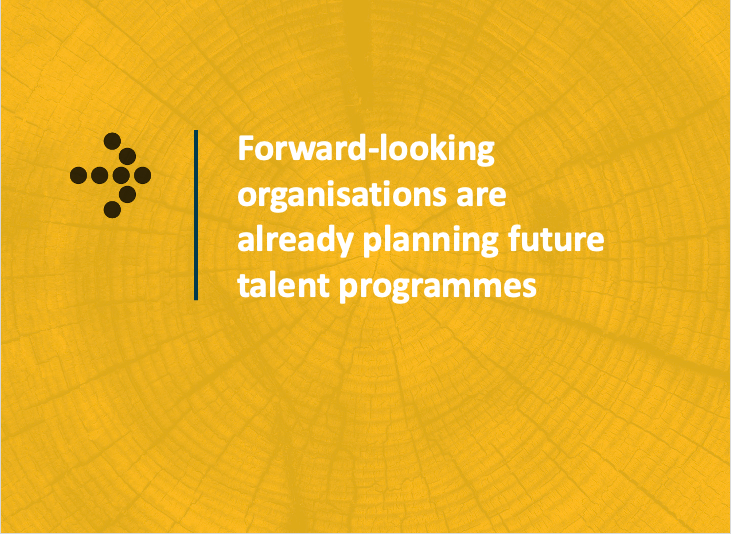 Many blogs posted recently focus on how individuals, teams and organisations can use the downturn in normal business activity to remain positive, to plan, and to find unexpected opportunity to add value to their stakeholders.
From an educational point of view, universities both in South Africa and around the world, have had to adapt to lockdown conditions, and are experimenting with the use of online classes to allow students to continue with their studies. (Read: Universities plan online classes during lockdown as an example.)
This means that more students will be online, for longer periods than usual, over this time.
In fact, forward-looking organisations are already engaging with, sifting, assessing and pre-selecting potential candidates for their future talent programmes (such as graduate recruitment and learnership programmes), even when these programmes are only set to take place later in the year.
If your organisation plays in this space, why not use this time to target your ideal candidates, rather than taking the risk that the best and most talented candidates are already committed to other programmes by the time you are ready to begin engaging with them?
There are many tools and products available in the market that you could consider using. For example, a solid social media campaign could be launched that will help your organisation and brand stand out from the pack. Depending on the services and resources at your organisation's disposal, together with your mission and purpose, why not consider developing a campaign that will help students cope in the current pandemic? Even something as simple as offering e-commerce vouchers that could be used to purchase a smart device to assist students to access online classes could go a long way in building a lasting impression with your candidates.
If you have already attracted large volumes of candidates to your programme, or you are worried that your deadline to deliver solid graduate candidates is going to be even tighter than usual, consider utilising web-based and AI-enabled assessment products that are available in the market. These include applicant tracking systems that can automatically screen CVs, or systems that can sift high volumes of candidates quickly, based on matching candidates against a set of customisable key requirements for your unique graduate programmes.
You can also consider using a range of quick, high volume online assessment products, or even gamified assessments, to help you identify the most talented applicants who have applied to your programme, and who meet your minimum requirements. There are many good options available in the market, both locally and internationally. A word of caution though – please ensure that whichever provider you use is aware of the unique elements of our labour law and can provide the necessary evidence that their tools are valid, reliable and unbiased in the South African environment.
There are also great options available to finalise your shortlist, and even to interview your best candidates.
In terms of finalising your shortlist, why not consider using online assessments? Almost all the mainstream psychometric assessment providers offer online options, and some of the best solutions incorporate AI-enabled solutions and other cutting edge technology to both improve the overall candidate experience, and to provide deeper and more rigorous results to help you quickly identify the best candidates in your process.
In terms of the interviewing process, organisations can consider standardised interviewing templates for various roles and levels. Since most interviews are generally quite unstructured, this approach can bring in some form of consistency in process and ratings for online interviews. Online communication platforms such as Microsoft Teams, Bluejeans, Skype and Zoom then allow for the seamless delivery of selection feedback to line management on assessment results, as well as development feedback to participants. And yes, all of this can happen while working from home.
While we are all facing obstacles now, hopefully this article has shown that with some lateral thinking, creativity and bravery to adopt new technologies, it is possible to reach our personal and professional goals. The use of structured interviews and an automated, integrated, online and time-sensitive assessment process with strong predictive validity can greatly help organisations ensure continuity in their selection and development processes. Let us know how we can assist you to keep your company's recruitment and development process up to date in this time of social distancing.
For more information, please contact us on [email protected] or 011 803 8703.