Identify your top three percent of candidates via Odyssey's hurdling process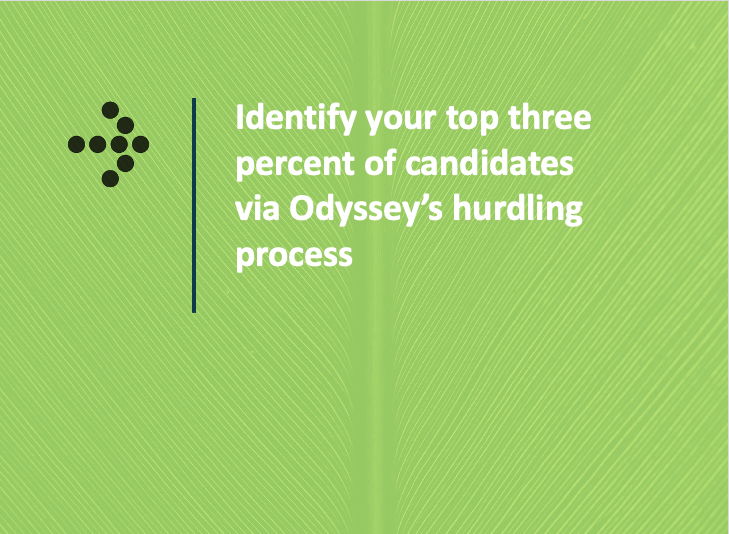 In a previous blog – Odyssey's hurdling platform addresses high-volume recruitment pain points – we introduced Odyssey's hurdling platform, which addresses several problems experienced in the pre-hire phase of the high-volume recruitment process.
Essentially the system puts candidates through a number of assessments (hurdles) in order to slim down the pool to make it more manageable.
Here's how it works: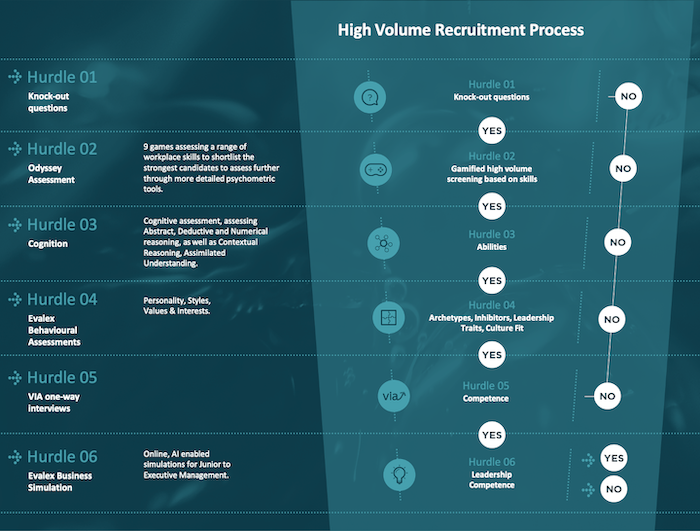 Ultimately this has several benefits for both candidates and recruiters – time-, money-and effort-saving being among them.
In the charts below we unpack a typical hurdling process to demonstrate how the number of candidates is funnelled down into a far smaller pool using Evalex assessments.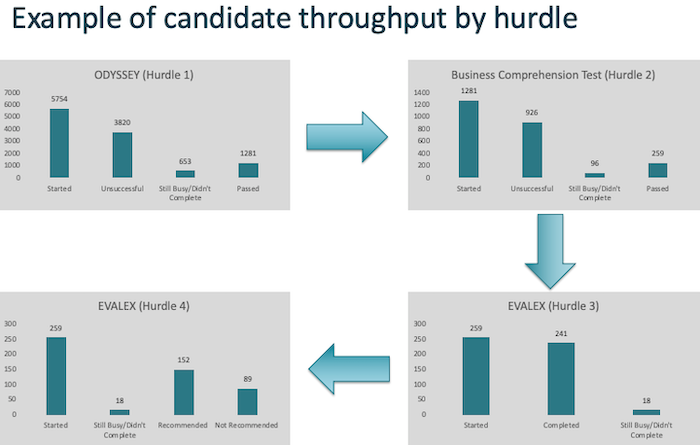 From the information above it can be established that:
5754 candidates entered the funnel.
97% of candidates have moved through the assessment process automatically, without human intervention, improving candidate experience, decreasing time to hire, and limiting the need to spend hours manually processing applications, results, and performing other tasks.
Only the last 241 candidates who completed the psychometrics (4% of candidates) were evaluated by our core team of consultants.
The client received 152 candidates for final interviews (only 3% of the entire sample).
The candidates who pass this stage can then move into whatever the high-touch component of the process might be, whether it's panel interviews, assessment centre days or deep assessments.
"As you move through the process you get stronger and stronger candidates coming through until you get to the end of the process, with a short-list of strong candidates suited to the roles in question," says Odyssey MD Kevin Distiller
From a client point of view, the new pre-hire platform leads to shorter lead times, heightened automation, a more objective process and ultimately a better candidate. But there are benefits for the candidate, too.
"We've put together a series of development plans that we send to unsuccessful candidates at the point at which they exit the process," explains Kevin. "So rather than hearing nothing, they get a very nicely worded developmental report suggesting some development pointers and making them feel more valued. They get something to help them develop themselves and understand how they did in the assessment."
The Odyssey hurdling platform addresses pain points for candidates and organisations when it comes to high-volume roles – whether it's a graduate role, a learnership role or always-on, high-volume roles where CVs are continuously flooding in.